Suffolk: Relax and Eat in Bury St Edmunds
A long old while ago now, I had the pleasure of reading a feature in the formidable Oh Comely Magazine called 'Hometown Tourist'. This truly distinctive and effortlessly artistic publication commissioned freelance writers to tour their town with a camera and a pen, providing the perfect opportunity to appreciate the everyday with new eyes. The results were excellent, and it left me – as most of Oh Comely's features do – feeling very much inspired.
It was this mindset of exploring a place overlooked that led me to spend a couple of days in Bury St. Edmunds, a Suffolk town close to where I grew up. I'd passed through the place many a-time but never stuck around to see what was on offer. When I finally made the time to do so, I was in for a real treat.
My journey began with a visit to Clarice House, a spa and beauty complex in the gorgeous confines of a grand Neo-Jacobean mansion set in the woodlands one mile outside of Bury St Edmunds. I wasted no time getting started with my day of ultimate relaxation, starting with an hour-long full body massage, enhanced hugely by the use of opulent Germaine de Capuccini products.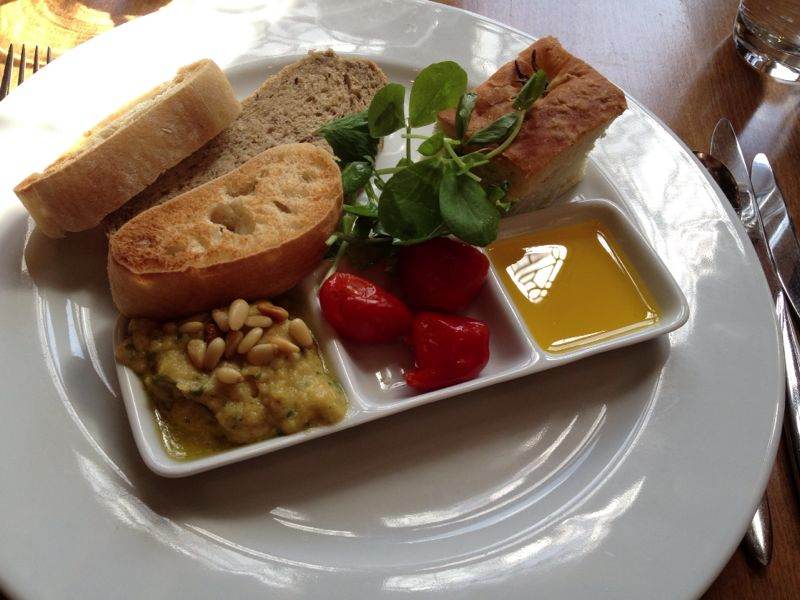 Credit: Lauren Razavi
Next I made use of the swimming pool, sauna and steam room: the perfect way to end my morning. The spa may be housed in a historic building, but the facilities are modern and comfortable. Lunch at the facility's award-winning restaurant, which includes a diverse menu for appetites of any size, was next on the agenda. I indulged in a delicious two-course feast of breads and oils, followed by roasted duck, duck's egg and orange confit.
I ended the day with a manicure and pedicure in the beauty centre. Chatting away to the beauticians, they all seemed awestruck by the opportunity to work in such a glorious and historic setting each day. I can't say I blame them.
From here, I drove out six miles into the scenic surroundings of Bury St Edmunds to visit the tiny village of West Stow. West Stow Hall is another blissful delight in the area, and I knew as soon as I pulled up that it was an excellent accommodation choice. The grounds are beautiful in every way imaginable, and the family run 4* B&B is an example of the English countryside at its very best.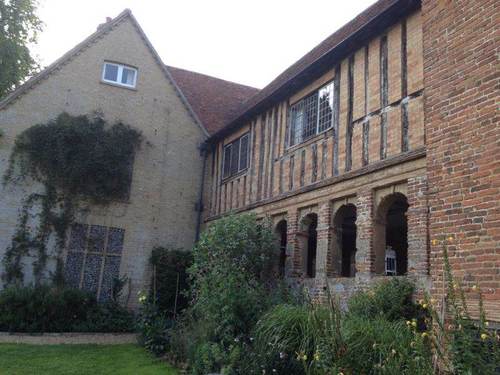 Credit: Lauren Razavi
West Stow Hall is part of a fascinating scheme called
Historic Britain
which aims to make exploration of our great nation easier for those looking for an authentic experience but who do not necessarily know the area. Useful for foreign tourists and 'hometown tourists' alike, I've found it to be an exceptionally useful tool for finding accommodation options that are off the beaten track and a little bit different. Impressively, the growing site has over 500 different hotels and B&Bs available, each more than 100 years old.
When I arrive at West Stow Hall, I am greeted by the friendly Eileen, joined by her two excitable dogs. We gossip over a slice of homemade cake and a cup of tea in the garden. She tells me that her children have grown up and moved away, so she loves welcoming new friends to the grounds of West Stow Hall.
Her confession that she loves running the B&B and having the opportunity to meet new and interesting people is no surprise – it's written all over her face. The project is not money-motivated; the money bad from the accommodation business is reinvested in the property, paying for the next batch of restorations on this beautiful old manor.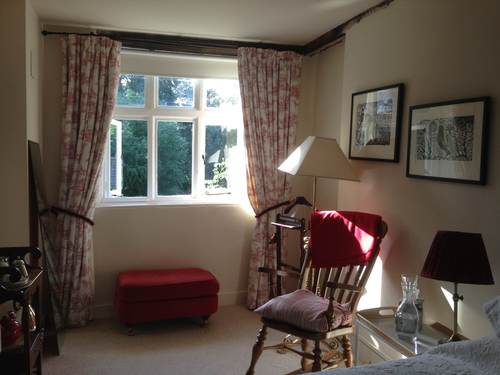 Credit: Lauren Razavi
When Eileen retires inside to greet other guests, I jump on the opportunity to have a look around the gorgeous grounds. The Hall boasts six acres of woods, streams and gardens on site, and is the perfect place to relax after exploring the picturesque towns of Suffolk and Norfolk, all within easy reach of this location.
Later, I am welcomed to an exquisite dinner with Eileen's family and their friend – a homemade French feast. Conversation and wine flows, and I'm absolutely convinced I've found the back door to heaven from the confines of this sleepy little Suffolk village.
After a delectable breakfast and more wonderful hospitality from West Stow Hall owner Eileen, I ventured into the centre of Bury St Edmunds. The attractive town is a nice enough place to stroll around, but the most memorable part of my day was lunch at The Angel Hotel's 'Eaterie' Restaurant. Their three-course midday menu, priced at a very reasonable £17.95, is small but perfectly formed.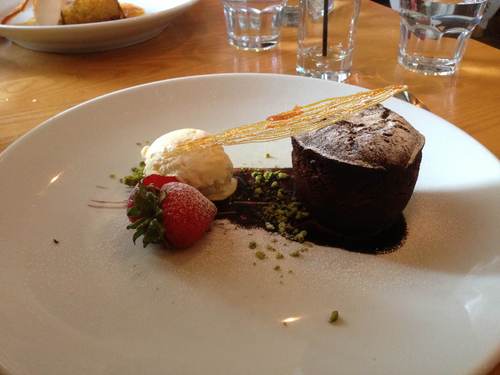 Credit: Lauren Razavi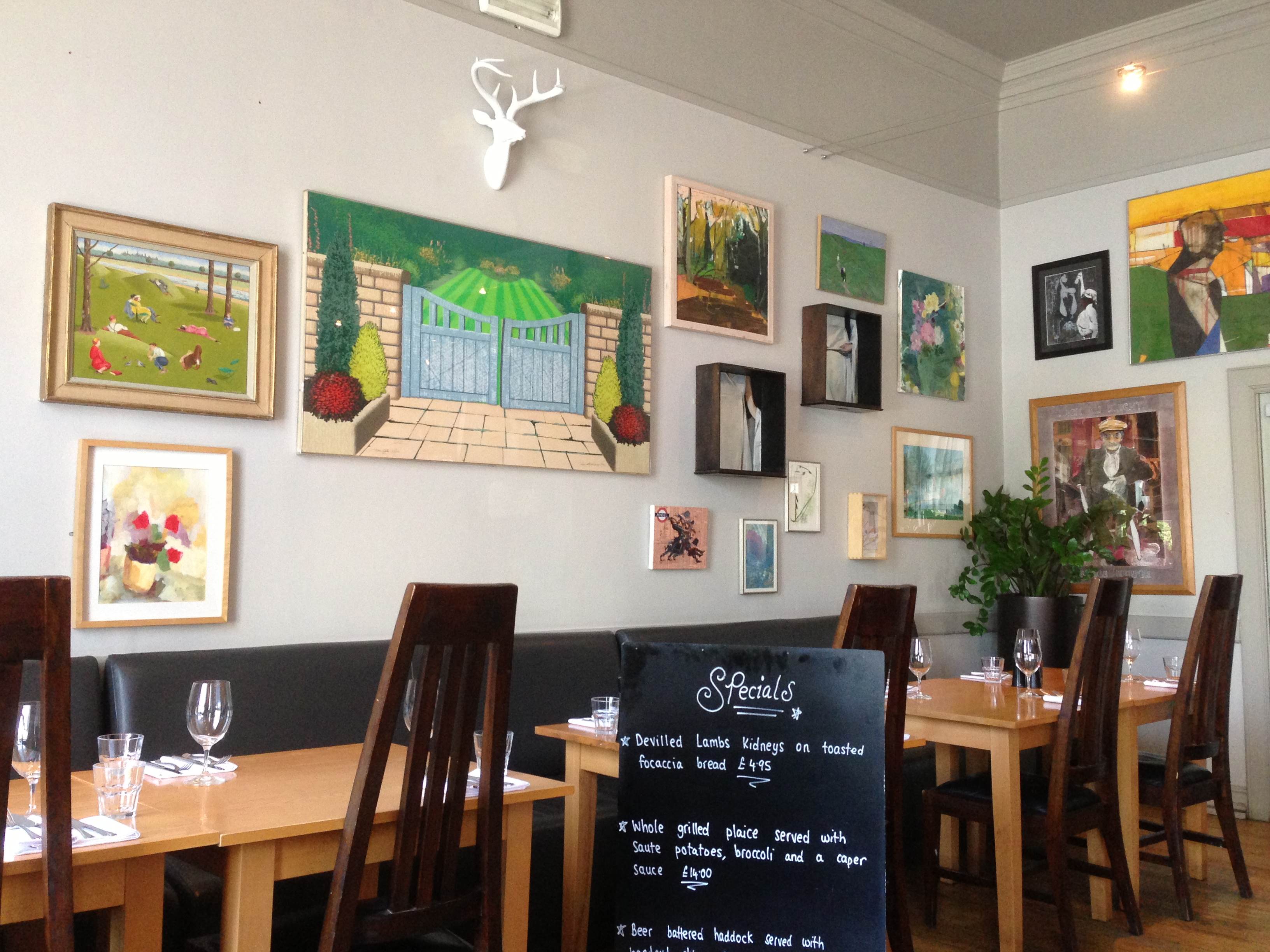 Credit: Lauren Razavi
Most of the dishes are British, but sometimes with an unexpected yet pleasant twist like the inclusion of salted carrot caramel. I go for a feta, watermelon and broad bean salad to start, a main course of grilled hake with samphire, peas and mint, and complete the meal with chocolate fondant. The ingredients on the menu are sourced from local producers, the bread is baked in house, and the fish and meat on offer depend on that day's catch. You can taste the precision in every mouthful.
The restaurant boasts just the right mix of sumptuousness, sophistication and modern quirk, all perhaps most apparent in its eye-catching decor. The photographs of old movie stars that colour the walls are both a modern touch and a throwback to times past at the same time. It feels like sitting in an art gallery while you eat: a welcome idea indeed.
Full of excellent food, a countryside atmosphere and just the right level of relaxation, I return home glad to have taken my own 'Hometown Tourist'-inspired trip. I'll certainly be visiting again soon.