Festive Winter Breaks in Lausanne, Switzerland
There's nothing like a short European break to get you in the mood for Christmas. As the nights draw in and the December days pass by, pop over to Lausanne, Switzerland on a special winter trip–you'll have ample opportunity to get your festive shopping done, and return refreshed and ready for the big day!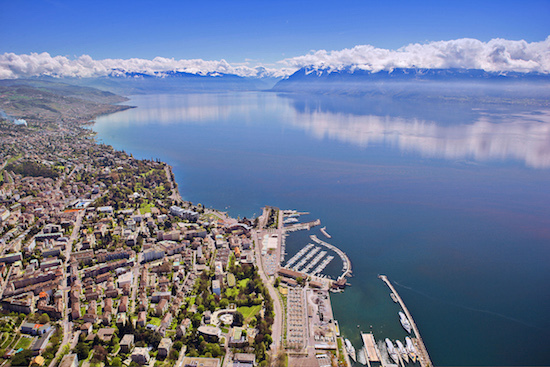 THINGS TO DO
Overlooking the stunning Lake Geneva, Lausanne is a quaint city of just 125,000 people. Full of classic European architecture and heartwarming French charm, it's impossible not to fall in love with the place.
Experience the Festival of Lights:
For six weeks each year, the centre of Lausanne explodes with colour and light. The Festival of Lights celebration brings together the work of 10 artists from across Europe in a public display of light installations, projections, sculptures and productions. The results are absolutely stunning, turning an evening walk around the city into a winter fairytale.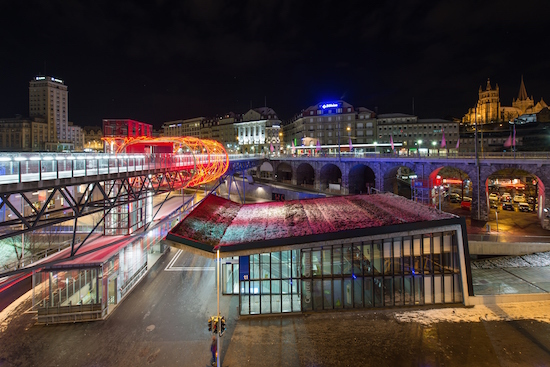 Visit the Christmas Market:
Throughout the month of December, Lausanne boasts a cozy little Christmas Market with a great community atmosphere. Alongside locals and visitors alike, grab a cup of mulled wine and wander the stalls–take in the best of cheese, sausage, crafts and more from across Switzerland.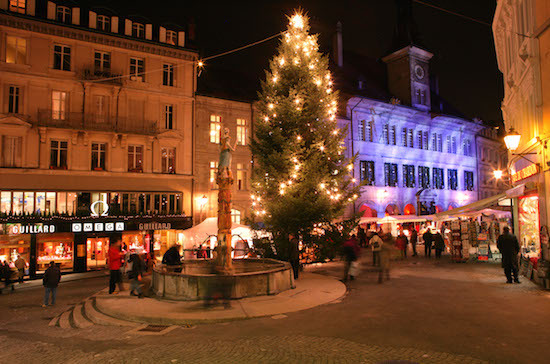 Indulge in Swiss chocolate:
Durig Chocolatier (Avenue d'Ouchy 15, 1006 Lausanne) is a decadent chocolate shop in the centre of Lausanne. In just a morning or an afternoon, you can learn how to make your own chocolates through individual or group workshops and demonstrations.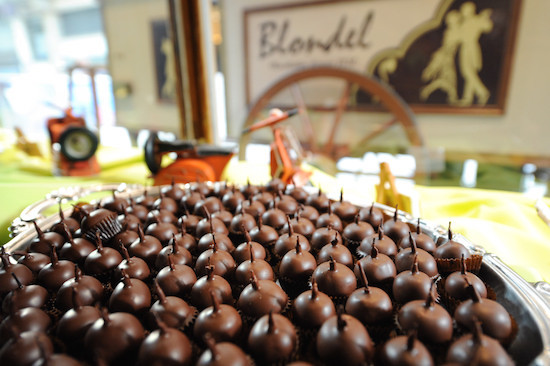 Discover the history of the Olympics:
The Olympic Museum (Quai d'Ouchy 1, 1006 Lausanne) is a fascinating place to visit even if you're not a big sports fan. Right by Lake Geneva in the Ouchy area of Lausanne, it traces the history of the Olympic Games and includes a range of interactive exhibitions and showcases 10,000 individual pieces.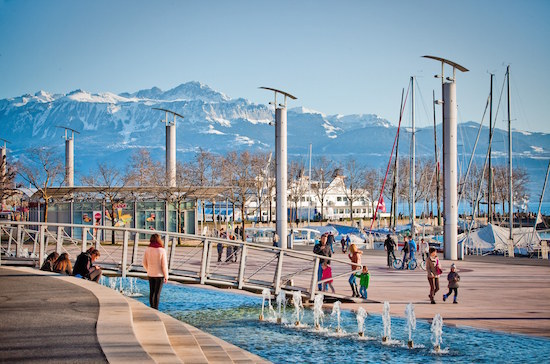 RECOMMENDED EATS
Cafe du Grutli (Rue Mercerie 4, 1003 Lausanne)
This traditional French brasserie opened in 1849 and offers rustic fare in a lively atmosphere. They're best known for their mouthwatering cheese fondue, made from Swiss produce including Le Gruyere cheese, white wine, garlic and nutmeg. Knowledgeable staff are happy to recommend wines to accompany dishes, and the busy atmosphere provides a great opportunity to experience local culture.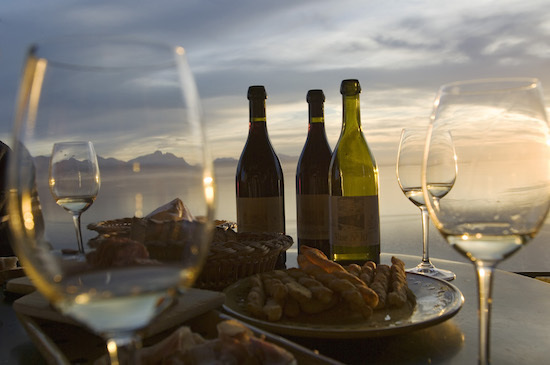 Eat-me (Rue Pépinet 3, 1003 Lausanne)
This charming restaurant draws inspiration from across the globe and serves up intriguing international cuisine in small-plate form that's perfect for sharing. With a hip, lounge-like atmosphere, the contemporary concept is a unique treat after loading up on lots of classic French and Swiss traditional fare in the city.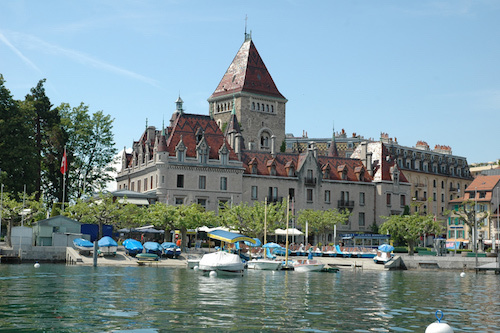 Chateau d'Ouchy (Place du Port 2, 1006 Lausanne)
In a building that dates back to the 12th century, this classy restaurant is one of Lausanne's most acclaimed. Specialising in Mediterranean cuisine, it offers a seasonal menu including seafood fished from the lake and lots of fresh vegetables. Be sure to try the sweet breads and delicious beef cuts.
WHERE TO STAY
At the airport, stay at Sofitel London Heathrow (Terminal 5, London Heathrow Airport, London TW6 2GD).
Start relaxing from the moment you arrive at the airport by indulging in a room at Heathrow's most coveted hotel name. The Sofitel is a design-led, luxury pick full of French elegance and flawless customer service. The upscale, sumptuous rooms feature enormous beds, dining tables, work desks and flat-screen TVs, while bathrooms have separate tubs and showers, and toiletries from The White Company. The hotel has an incredible fine dining restaurant, La Belle Epoque, which offers gourmet cuisine in a sophisticated setting–a stay just wouldn't be complete without a visit here.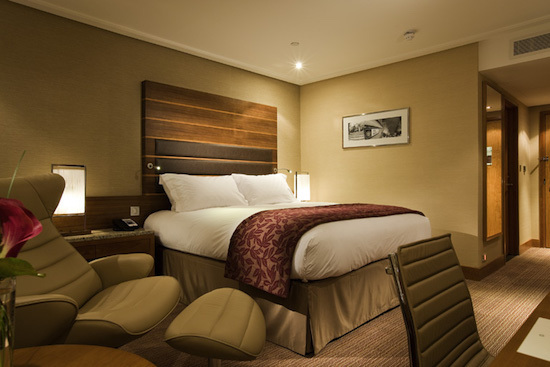 In Lausanne, stay at Hotel de la Paix (Avenue Benjamin-Constant 5, 1003 Lausanne).
Dating back to 1910, this stately old hotel is situated right in the centre of Lausanne, just a few minutes' walk from the picturesque Old Town area, shopping and nightlife. The understated rooms feature flat-screen TVs, work desks, free WiFi, and tea and coffeemaking equipment. Some rooms also offer views of the city, Lake Geneva or the Alps. A continental breakfast buffet is available, and amenities include a restaurant and bar, a terrace and function rooms.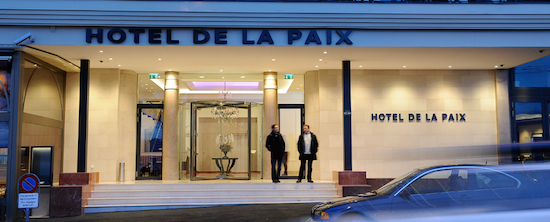 GETTING THERE
Fly with Swiss from London Heathrow to Geneva with prices starting at around £82 return per person in economy class. From there, take a train directly from Geneva Airport to Lausanne station–transit time is just 50 minutes–for around £16 one way in standard class, or £29 in first class.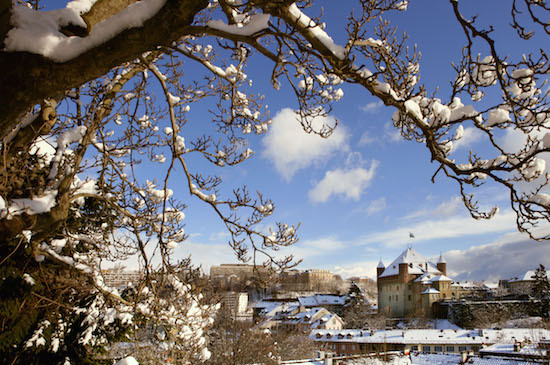 FURTHER INFO
To find out more about Lausanne or for help planning your own trip to the city, visit the Lausanne Tourism website here.
Hotel images courtesy of the properties. All other images courtesy of the Lausanne Tourism Board.